It is Wednesday!
It is time for the Hodgepodge!
Joyce asks the questions.
We answer the questions.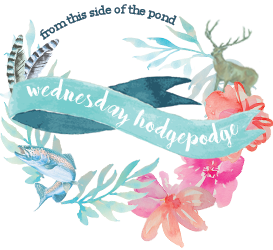 1. April showers bring May flowers or so the saying goes. Has your April been filled with showers?

Yes, weather wise, Wisconsin has seen its share of showers this April.

Do you carry an umbrella, wear a slicker, or make a run for it? I have a fun blue rain coat.
Besides rain, what else has filled your April?
Our oldest son, enjoyed a Happy 17th Birthday!
My dad had a heart attack on April 11th.
If you follow The River you know my parents are Wisconsin Dairy Farmers. My parents had a plan if anything should happen to my dad. My mom had to sell the herd the afternoon of my dad's heart attack. A life changer in many ways.
I am happy to report my dad is recovering. He will be starting his Cardio Rehab today.
He is taking his time heading down to visit the barn. We all told him that is alright. When he is ready to face that empty barn, we will all be at his side.
The cows were my dad's favorite part of farming.
2. What's something you could you give a 30-minute presentation on at a moment's notice and with zero preparation?
3. Share with us a favorite food memory from childhood.
My mom made and still does make the best No Bake Cookies!
4. What's a song you thought you knew the lyrics to, but later discovered you were wrong?
Home on the Range
my version goes like this

Oh give me a home where the buffalo roam,
Where the deer and the antelope play,
Where someone is heard and there is not a discouraging word,
And the skies are not cloudy all day.
the correct lyrics
Oh give me a home where the buffalo roam,
Where the deer and the antelope play,
Where seldom is heard a discouraging word,
And the skies are not cloudy all day.
5. According to one travel website, the most overrated tourist attractions in America are-
Niagara Falls (NY), Hollywood Walk of Fame (California), Times Square (NYC), Epcot (FL), Seattle Space Needle (WA), and Faneuil Hall and Quincy Market (Boston). How many of these have you seen in person?

I have visited Times Square (NYC)

and Quincy Market (Boston)

Did you feel like a tourist?

I did feel like a tourist, but I was one!

Did you care?

No, I did not care that I was a tourist. I enjoyed visiting both Times Square and Quincy Market.

Tell us about a place (not on the list) you've visited that might be considered a tourist trap, but you love it anyway.
Duluth, Minnesota
6. Your signature clothing item?
7. What's an experience you've had you think everyone should experience at least once? Why?
During my stay at the hospital with my dad and family, we were blessed by so many strangers. Some had family in ICU and they too were waiting news on their loved ones.
Why do I say, I think everyone should be blessed by a stranger? Because this world is not as BIG AND UGLY as the Media makes it out.
8. Insert your own random thought here.
I wish I would have thought of these jeans.
Golly, my garden jeans are worth $$$$!!!
Jeans made to look like you Work Hard so you don't have to
article by
Mike Rowe