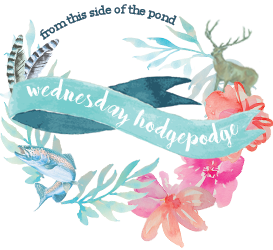 It is Wednesday and it is time for the Hodgepodge.
Join in on the fun! Joyce asks the questions, we answer the questions.
1. The first day of summer rolls in later this week. What are ten things you'd put on your list of quintessential summer activities? Will you try to manage all ten this summer?

Yep, we have a camp trip planned on the Southern Shores of Lake Superior in July.
Have done that and will have a few more.
3. Eating S'Mores while enjoying the bon fire.
Yep, did and will do again.
We have plans to enjoy a day paddling a new lake.
I use to do this every summer with my sister and cousin. I ask the boys to help me catch them now. It always ends in laughter and mosquito bites. The fireflies are out at the same time the mosquito are out.
We already had a few of these and have some more on the calendar.
This will happen in August for me, a fresh BLT with lettuce and tomato from our garden.
Each summer I take the boys strawberry picking. That time is coming up.
We played croquet, enjoyed a lovely meal sitting on the porch and ended the evening taking a moon walk during the full Strawberry Moon.
YES, I will be sure to get some of that in too!
2. Do you collect seashells when you're at the beach? What do you do with them once you get them home? What's your favorite place to comb for seashells? How many of these '
best beaches for hunting seashells'
have you visited? Which one would you most like to visit?
Calvert Cliffs State Park (Maryland), Jeffrey's Bay (South Africa), Sanibel Island (Florida), Shipwreck Beach (Lanai Hawaii), Ocracoke Island (North Carolina), Galveston Island (Texas) and The Bahamas
I do collect sea shells. I put my small shells in a jar. I have a few large shells that I have with my summer decor. When we enjoy the beaches of Lake Superior, we usually look for agates, sea glass and unique drift wood.
I have not visited any of the beaches on the list.
My friend Marv loves the beaches of Texas. I have family that live in Texas. I will pick Galveston Island as the first to visit.
3.
At a snail's pace, shell out money, come out of your shell, go back into your shell, drop a bombshell, happy as a clam, clam up..
.which 'shell' phrase could most recently be applied to some event or circumstance in your life? Explain.
Our claim for the damage done to our home during the May 16th storm is all settled.
My boys are enjoying the days of summer and working part time.
My dad continues to heal after his April 11th heart attack.

4. What summer activity do you dislike? Why?
I can not think of an activity. Instead, STORMS continue to pop into my mind. Summer brings heat and humidity to Wisconsin. We can have awful storms.
I dislike when the storm siren is blaring and the sky is angry.
5. What's something you see as quickly becoming obsolete? Does that bother you?
It means "to distinguish, to separate out by diligent search, to examine."
6. Insert your own random thought here.
I vote for this to be a must see!
Our family loved Torrey Pines.